Looking for a scrap yard near Berwick, PA?
Scrap recycling near Berwick, PA, for businesses, industries, contractors, builders, demolition, and dismantling.
Brenner Recycling is a family-owned and -operated scrap yard serving Berwick, PA, and the surrounding areas since 1925.
The Brenner Recycling team has helped many Columbia County businesses and industries recycle millions of pounds of scrap metals across Northeast PA, including copper, brass, copper wire, aluminum, and steel.
Scrap recycling service that is reliable, on-time, and delivers value to you.
Scrap recycling for the following areas of Columbia County, PA
Berwick Borough
Town of Bloomsburg
Ashland Borough
Benton Borough
Briar Creek Borough
Catawissa Borough
Centralia Borough
Millville Borough
Orangeville Borough
Stillwater Borough
Beaver Township
Benton Township
Briar Creek Township
Catawissa Township
Cleveland Township
Conyngham Township
Fishing Creek Township
Franklin Township
Greenwood Township
Hemlock Township
Jackson Township
Locust Township
Madison Township
Main Township
Mifflin Township
Mountour Township
Mount Pleasant Township
North Centre Township
Orange Township
Pine Township
Roaring Creek Township
Scott Township
South Centre Township
Sugarloaf Township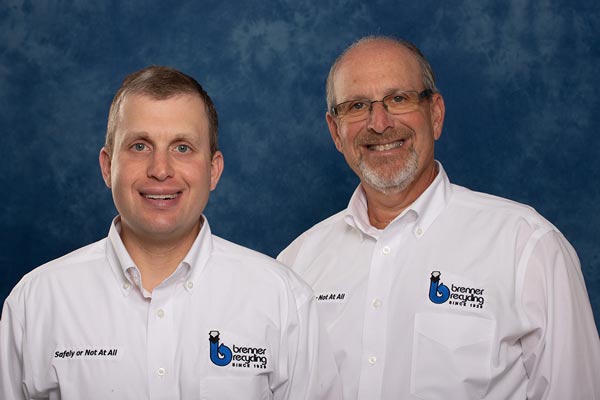 Jason and Paul Brenner
Brenner Recycling is a fourth-generation company located in Hazleton, PA. Since 1925, we've been a family-owned, hands-on, people-focused, service-oriented recycling business for our commercial, industrial and residential customers.
Today, we employ approximately 20 associates at our state-of-the-art facility and process more than 30 million pounds of scrap material per year. Our hands-on approach, customer focus and recycling expertise help us to best meet your recycling needs.
We specialize in buying, accepting, transporting, processing and selling all types of recyclable products, including scrap iron and steel, nonferrous metals, cardboard, and electronic scrap.